FIX ERROR: An error occurred when attempting to copy to your Public Shared Folder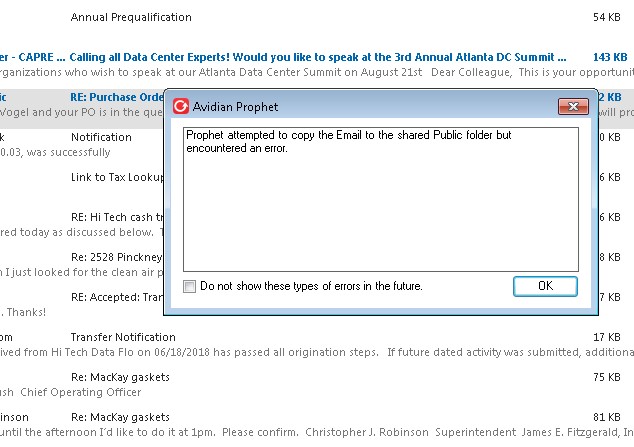 Symptoms
This error can happen when sending emails from an open Opportunity, or when linking emails to an Opportunity.
It could also happen when a Prophet user receives an email from another Prophet user that is linked to an Opportunity, or when sending or receiving emails from a contact that you have Auto-Linked to an Opportunity.
Cause
This is due to a size restriction on the
individual
folders, not the overall public folders' space available.
You can verify this outside of Prophet, by trying to copy any email to the public folder. Right click one, click Move, and click Copy. Expand the public folders and find the Prophet folders and the one that shows [Department Name] Emails.

Select that folder and click OK. You'll get a message that "The message store has reached its maximum size..."

Solutions
Your Exchange Administrator can increase those folders' settings.
If Prophet still isn't working correctly after that, Please create a support ticket by clicking
HERE
or call us: +1.800.399.8980
Hidden Content
This board requires you to be registered and logged-in to view hidden content.
[url=
https://postimg.cc/image/doia44k7v/
]
[url=
https://postimg.cc/image/izx6oygm3/
]