Problem
Avidian Support might ask you to enable extra logging for Prophet.
Or if you're having a problem that shows an error message, enabling extra logging will help Support resolve it.
Enable Extra Logging
In any Prophet Manager, click the dropdown arrow on Prophet's Help button.
If the Log Messages button is not already checked, check the box and restart Outlook.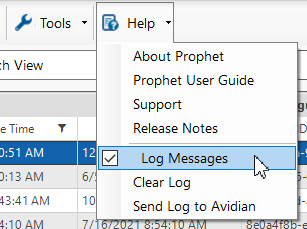 Send Log to Avidian
If you don't have a Support ticket, you can click the dropdown arrow on Prophet's Help button and click Send Log to Avidian.
That will open an email with details of your PC's configuration.
Change the Subject to a brief description and add other details and screenshots in the email, and send it.
Outlook might notice that there's no attachment (yet). Click Send Anyway. The log will be attached as it is sent.
A new Support ticket will be created.
If you're already working from Support, please reply to one of the emails and attach the error log.
Click Attach File and click "Browse This PC…"
The Insert File page should already be in the Documents folder. Open "Avidian Technologies" and the Prophet folders.
Click ErrorLog.txt and click Insert.
Send the email.
Support
If you have any trouble going through the steps or would like help, please call Avidian Prophet Technical Support at 855-284-3426 x2.
You can also send email to [email protected] or create a support ticket here.