If you receive the following error while installing Prophet:
This error can happen when Prophet is looking for Outlook in a folder for an older Outlook version.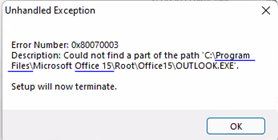 STEPS TO RESOLVE
1) Create the path that Prophet is looking for. In this case C:\Program Files\Microsoft Office 15\Root\Office15
Note that your path might be different. It might be "Program Files (x86)", or Office13, etc.
2) Mavigate to the actual file in C:\Program Files\Microsoft Office\root\Office16, copy the "Outlook.exe" file, and then navigate to the new directory and paste it in the newly created folder.
3) Run the Prophet installation again and it should complete. 
Support
If you have any trouble going through the steps or would like help, please call Avidian Prophet Technical Support at 855-284-3426 x2.
You can also send email to [email protected] or create a support ticket here.