Problem
From the right-click menu in Views > Users > Assign to Users (or probably also Remove from Users), you might have just a black window.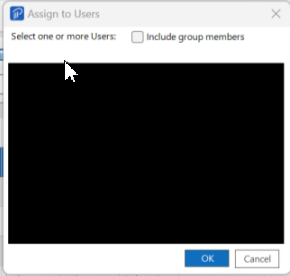 Solution.
Uninstall and reinstall Prophet.  This knowledge base article has more details.
Support
If you have any trouble going through the steps or would like help, please call Avidian Prophet Technical Support at 855-284-3426 x2.
You can also send email to [email protected] or create a support ticket here.