Overview
Prophet has the ability to automatically link Contacts' emails to Opportunities.
Caution: This a one-to-one relationship.
Every email to or from the auto-linked email will be linked to that one Opportunity.
Don't auto-link a contact that is associated with multiple Opportunities or if you have emails not related to that one Opportunity.
Scope
Auto-linking is only active in your Email account.
When other Prophet users send email to or from your auto-linked contact, their emails won't be linked.
An exception is that when other Prophet users are copied on any linked email, theirs will be linked.
That's not due to auto-linking, but an expected behavior of any already linked email.
This includes when a linked email is Forwarded, though not when Replied to.
Steps for Existing Contacts.
In an open Opportunity, click the Contacts tab.
Check the Auto Link Emails box for any contacts that you want auto-linked.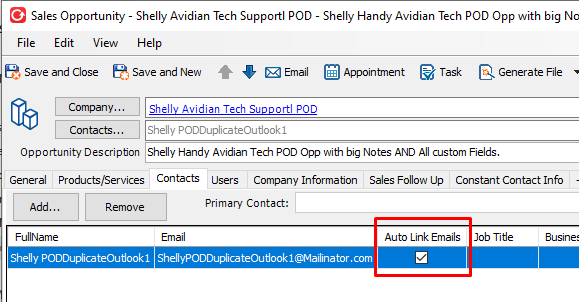 Once the Opportunity is saved, any emails sent to or received from that address will automatically be linked to this one Opportunity.
An email that is auto-linked on yours 
Support
If you have any trouble going through the steps or would like help, please call Avidian Prophet Technical Support at 855-284-3426 x2.
You can also send email to [email protected] or create a support ticket here.