Problem
You might get a message that "Prophet is temporarily dormant", or that "Prophet's service has been restored".

Please test if Prophet is working before restarting Outlook.  An Outlook restart is not always needed.
Cause
This process is designed to help if the Prophet servers have an outage.
It can also occur if there's an interruption in your Internet connection.
If there is an Outage or Internet problem, you'll get the Dormant message.
Prophet will then periodically checks if it can connect to the server, and then you will get the Service Restore message, and you can use Prophet again.
Solution
The timeout was increased in Prophet version 7.8.113. If you have an earlier version, please update Prophet.
You can see which version you have in any of Prophet's Manager folders by clicking the dropdown arrow on Prophet's Help button and click About Prophet.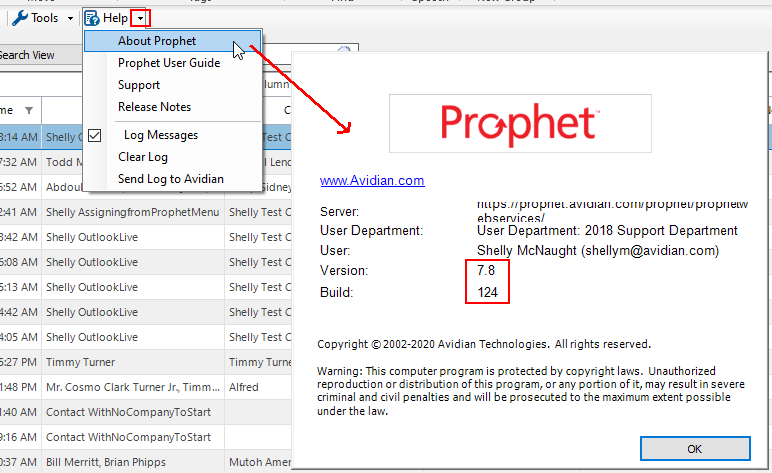 To get the current version of Prophet, you can download https://www.Avidian.com/install/clientupdate
If you're not a Windows Administrator on your PC, please your IT run the file.
If you use a Remote Desktop Session like Citrix or Microsoft's RDS, also have your IT do the update.
Then as your normal Windows user, you will run C:\Program Files\ConfigureProhpetClient.exe and restart Outlook.
Support
If you have any trouble going through the steps or would like help, please call Avidian Prophet Technical Support at 855-284-3426 x2.
You can also send email to [email protected] or create a support ticket here.