Overview
Prophet's Offline Mode can be used if you know that you'll have your PC, but no Internet connection, such on a flight.
It can't be used if you suddenly lose your Internet connection. It needs to be prepared ahead of time, while you do have Internet access.
You will mark Opportunities, Companies and/or Contacts to be available Offline.
Steps
Add to Available Offline List<o:p>
To save items to your offline list, right-click one or more Opportunities, Contacts or Companies, and select
"Add to Available Offline list".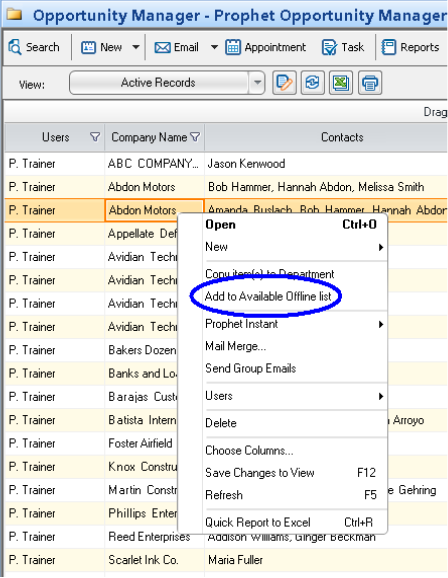 Standard Windows features allow you to select multiple rows, and select or deselect individual rows.
To select multiple rows, select a row.
Hold shift and select the last row.

Or you can hold shift and use the arrow keys to continue the selections up or down.

You can also hold shift and drag the mouse up or down.
To select or deselect rows, hold Ctrl and click.
To select all rows in a view, right click and click Select all.
You can see the number selected in Prophet's status area at the bottom, (5 selected) in this screenshot.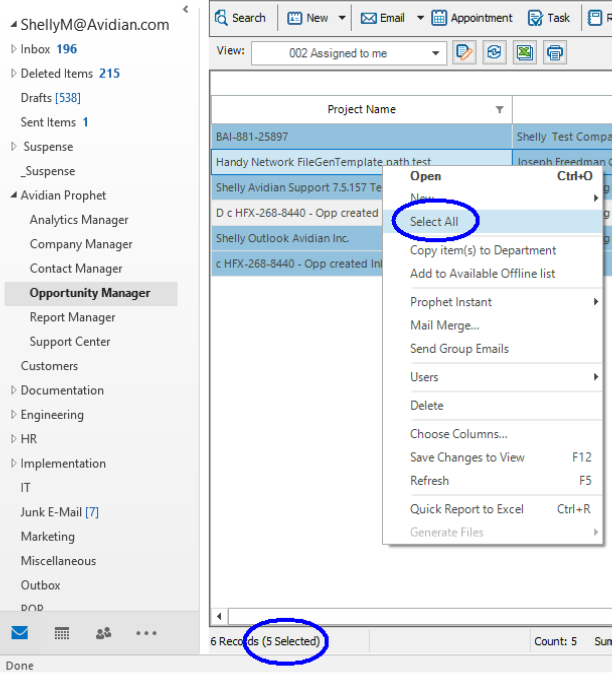 Prophet allows up to 1,000 of each individual item, Companies, Contacts and Opportunities.
Note that when you select Opportunities, Prophet will include the Company and Contacts associated with it. You don't need to select them separately.
Switch to Work Offline<o:p>
Note that once you switch, changes you make will not be seen by other Prophet users, nor will you see any of theirs, until you switch back to Online.
Only the records that you have selected will be available.
While in Offline mode, you can create new Opportunities, Contacts or Companies.
After selecting the item(s) you want available offline, click the dropdown arrow on Prophet's Tools button, and click Work Offline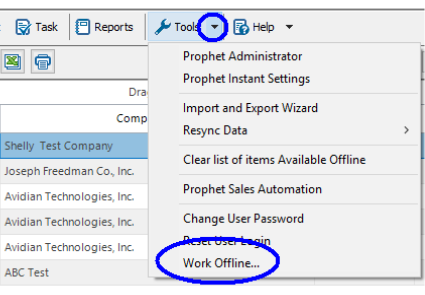 Prophet will show how many items are to be synchronized.   Click "Continue."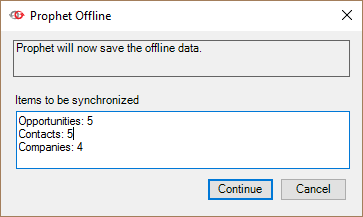 Prophet will transfer that data to be available Offline.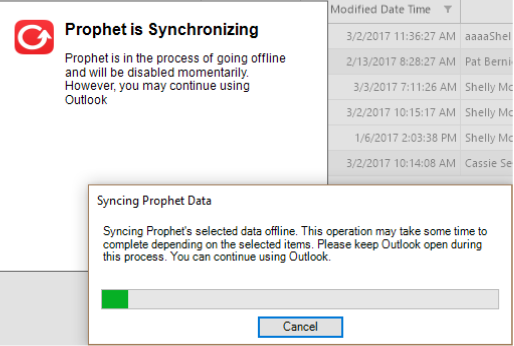 Those records will then be added to an Offline Records view, which will have been created for you.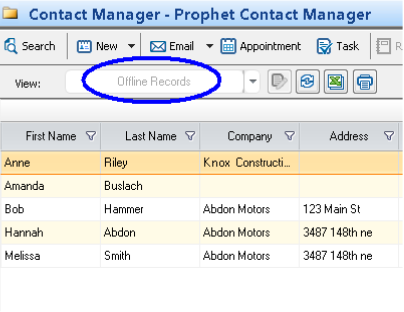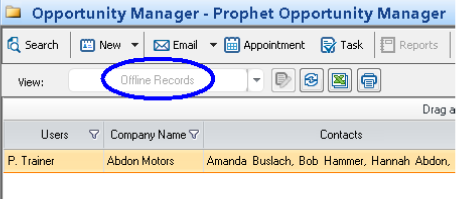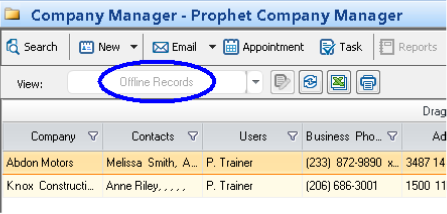 You can now use Prophet normally.  You can update data and create new data.
Switch back to Online mode<o:p>
Once you have an Internet connection again, click the dropdown arrow on Prophet Tools button and click Go Online.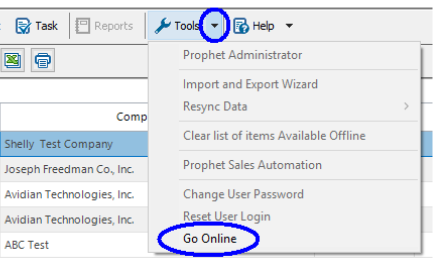 Prophet will send data back to server.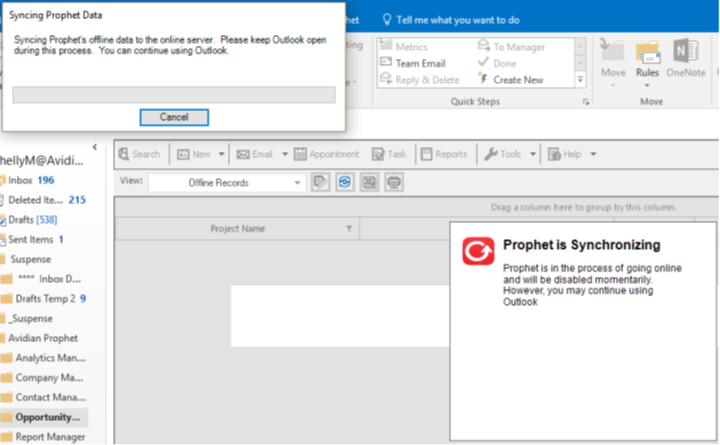 Please note that your original list of selections list is not saved.
After you Go Online, if you want to Work Offline again, you'll need to re-select your Companies, Contacts and Opportunities.
Support
If you have any trouble going through the steps or would like help, please call Avidian Prophet Technical Support at 855-284-3426 x2.
You can also send email to [email protected] or create a support ticket here.